After the block reward halving in May, Bitcoin's mining ecosystem was immediately thrown into disarray.
The revenue of miners was effectively halved overnight, forcing many miners with tight profit margins to go offline as they could not maintain a positive cash flow in the wake of the event. This resulted in a slowdown in transaction speeds along with an increase in transaction fees.
From the pre-halving peak to post-halving trough, the hash rate of the Bitcoin network dove by ~40% — a sign of "miner capitulation."
Since the halving, though, Bitcoin miners have found their footing once again. Blockchain data firm Coin Metrics, for instance, observed on June 14th:
"The CMBI Bitcoin Hash Rate Index demonstrates that hash rate has now largely recovered to its pre-halving levels."
This bodes extremely well for the cryptocurrency's long-term uptrend, with a crucial bull signal about to appear once again.
Crucial Bitcoin Signal Is About to Appear
Matt D'Souza, chief executive of Blockware Mining and a fund manager in the space, noted that his firm's data indicated that at the halving, approximately 30% of the network's hash rate was at risk of capitulation.
Finance podcaster and Bitcoin bull Preston Pysh echoed this, explaining in response to D'Souza's comment:
"During the 2016 halving, the price went sideways for 9 days and then had a 28% drop, and it took 100 days to get back to the halving price. Mentally prepare yourself for the efficiency cleansing and difficulty adjustment as the protocol prepares all passengers for launch."
With Bitcoin's hash rate crashing around 40% as aforementioned, this capitulation happened.
But the hash rate crash has been followed by a surge, with BTC miners entering back into the industry with new strategies and machines to increase their profitability.
This recovery has allowed Bitcoin's Hash Ribbons — an indicator that derives signals from the movements of BTC's hash rate — to begin trending towards a "buy."
As Charles Edwards, a digital asset manager and analyst, recently wrote in reference to the chart below:
"Hash Rate "Recovery" looks like it may occur next weekend… The Hash Ribbon "Buy" signal also requires price momentum to improve from here, so could take a bit longer than a week."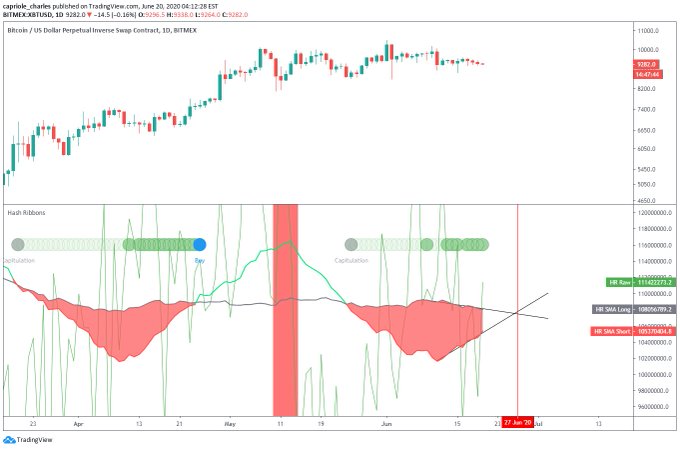 Hash Ribbons and BTC price chart from analyst Charles Edwards. Chartr from TradingView.com
This is important to Bitcoin's bull case as previous "Buy" signals triggered by the Hash Ribbons have preceded parabolic rallies in the asset.
Edwards pointed out in December of last year that the average "gain-to-cycle-peak" of the indicator is over 5,000%, with the Hash Ribbons predicting the asset's biggest moves to the upside.
Hash Ribbons Buy confirmed.

This is just the 10th time these conditions have been met for #Bitcoin.

It is highly likely we never see $BTC under $6000 ever again.

All other occasions saw an average gain-to-cycle-peak of +5000%.

Now is the period to Buy Bitcoin and never sell. pic.twitter.com/hSH9BtRhsj

— Charles Edwards (@caprioleio) December 28, 2019
Far From the Only Macro Bullish Sign
The Hash Ribbons isn't the only sign suggesting (or soon to suggest) that a macro uptrend is incoming.
One trader noted that Bitcoin's two-week RSI is about to break past a downtrend formed in the wake of the rally to $20,000. The last time this happened was prior to the bull run from the $500 range to $20,000 in the span of two years.
Featured Image from Shutterstock
Price tags: xbtusd, btcusd, btcusdt
Charts from TradingView.com
One of Bitcoin's Most Accurate Macro Signals Is About to Signal a Bull Run