For the umpteenth day in a row, Bitcoin has stalled in the low-$9,000s. Bulls and bears have found themselves at an impasse, with neither side forming a trend as there is also indecision in the equity market.
Bears may soon take the high ground as a trader has noted that Bitcoin is approaching a multi-million-dollar sell wall poised to slow and maybe even stop any rally.
There's a Big Bitcoin Sell Wall Preventing A Rally
According to a trader, Bitcoin may have trouble breaking past $9,400 due to the existence of a large sell wall on Binance.
A sell wall is a block of sell orders that suggests there is a large amount of demand to dump an asset at a specified price/range.
The sell wall in question is made up of 1,300 BTC and is situated at $9,450 per the analyst. That's nearly $13 million preventing a Bitcoin rally past $9,450 should the wall persist.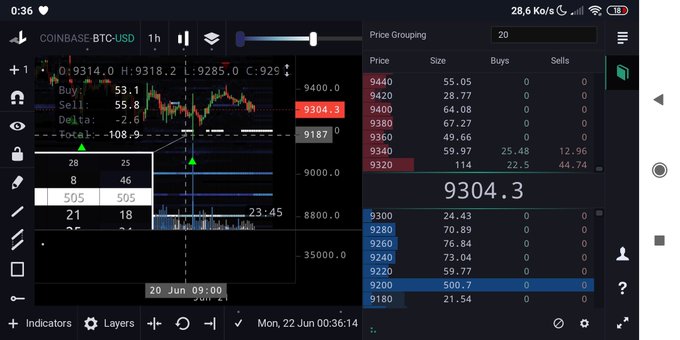 Bitcoin sell wall chart shared by trader/analyst Coiner-Yadox (@Yodassk on Twitter).
There is a silver lining to the analyst's chart: there purportedly is a refilling price wall at $9,200 on Coinbase that could suggest that the Binance seller is surpressing prices to fill their Coinbase base. That's according to the trader that shared the chart above anyway.
There Are Still Buyers
The reason why Bitcoin hasn't seen a strong rejection in the $9,400 range to fall under the $9,000 support is due to the presence of buyers, which are still bidding the cryptocurrency despite the fears of a retracement.
Altana Digital Currency Fund's Alistair Milne noted that along with 61% of Bitcoin being "HODLed," there is currently more buy support than sell-side orders on Bitfinex. His data indicates that within ~$700 of the current Bitcoin price, there is twice more orders looking to buy BTC than sell it.
The existence of buy support is further corroborated by Grayscale Investments' Bitcoin Trust, which trades on public OTC markets under the ticker of GBTC.
Grayscale documents filed to the SEC indicate that the trust has added more than 60,000 coins to their holdings in the past 12 weeks.
Related, data from CryptoQuant has shown that Bitcoin miners are extremely hesitant to sell their holdings, with the site's miner positioning index reaching lows not seen since December 2019. The index bottoms and reaches low values when miners expect Bitcoin to rebound, then increases as miners sell their coins for cash near the peaks of trends.
Whether enough this bid will be enough to support Bitcoin above $9,000 in the long run remains to be seen.
Featured Image from Shutterstock
Price tags: xbtusd, btcusd, btcusdt
Charts from TradingView.com
There's a $10+ Million Sell Wall At $9,400 Preventing a Bitcoin Rally