There are many analysts saying that Bitcoin looks like it's at a medium-term high.
As reported by NewsBTC previously, a trader said that the cryptocurrency is trading in a textbook "distribution" pattern. Referencing the chart below, the trader said:
"A couple more clues developing that lend themselves to HTF distribution. 1. Rising Demand on the verge of failing. 2. Side by side, ascent vs descent with selling the dominant pressure from volume. We break to the downside, I'm not interested in $7ks. Much lower."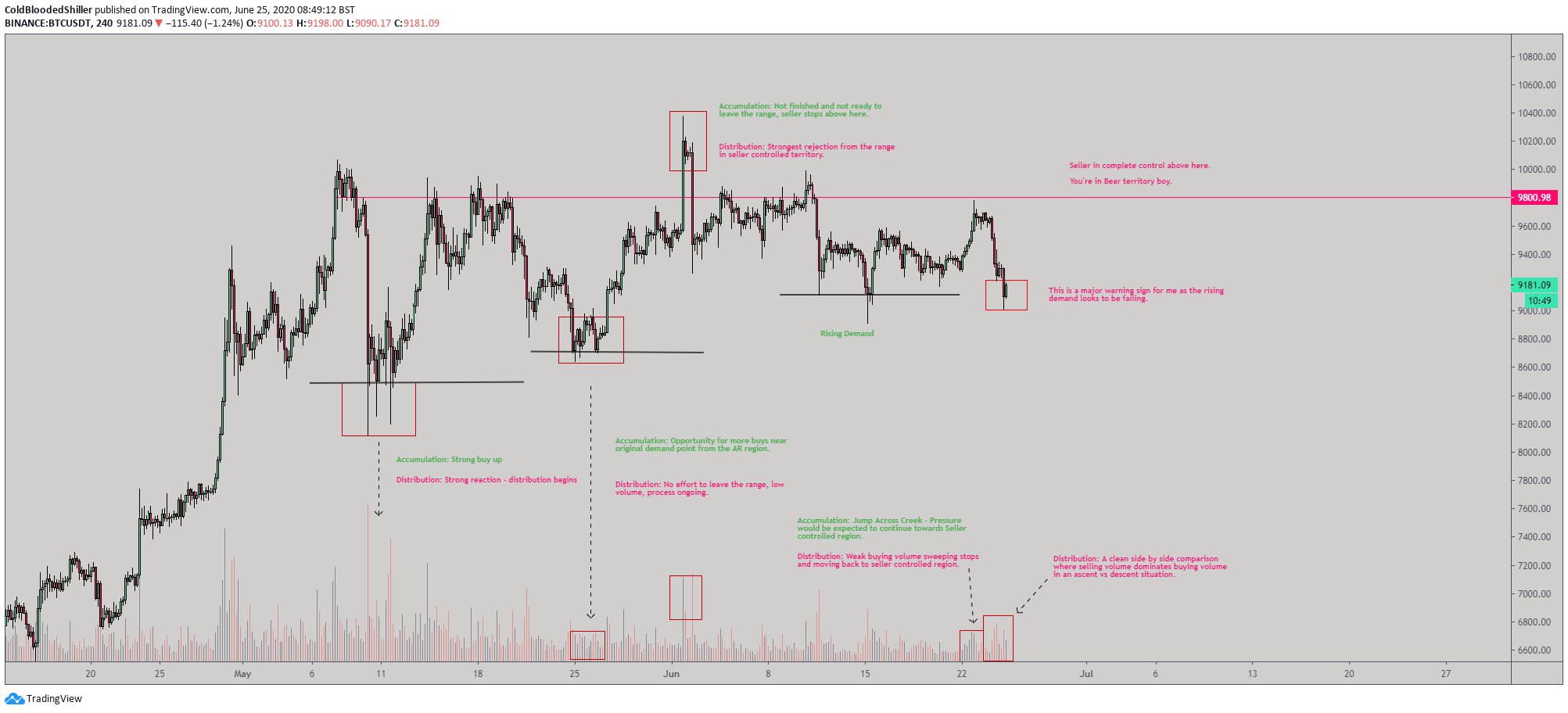 Bitcoin distribution analysis shared by trader "Cold Blooded Shiller" (@Coldbloodshill on Twitter). Chart from TradingView.com
Yet simple derivatives data shared by a fund manager in the space shows that Bitcoin may be far from a top.
Fund Manager: Bitcoin's Current Price Action Looks Nothing Like a Top
It's been easy to think that the recent Bitcoin price action is a sign of a market top. The cryptocurrency has seen multiple rejections at the $10,000 range while a series of lower highs and lower lows have formed.
Yet as noted by Bitazu Capital's Mohit Sorout, this sentiment may be irrational. He shared the below image on June 28th, commenting "Imagine calling this distribution."
As his image shows, the five medium-term tops Bitcoin has seen over the past year occurred when BitMEX's funding rate was extremely high. Right now, though, funding rates are negative-netural, suggesting BTC has room to rally.
The funding rate is a recurring fee that longs pay to shorts in a perpetual swap futures market.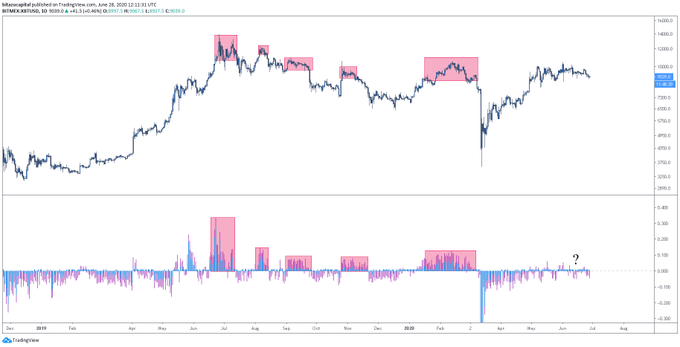 BTC top analysis in relation to funding rates
Analyst Eric Thies has shared Sorout's sentiment.
The trader shared the image below, showing that all of Bitcoin's medium-term tops over the past ~two years have been 20-40 days. The current "top," on the other hand, has lasted for two months:
"BTC stucturally looking less like a local top and more like a launchpad as of now. Naturally speaking, things may need to go down before they really go up but this time looks promisingly different."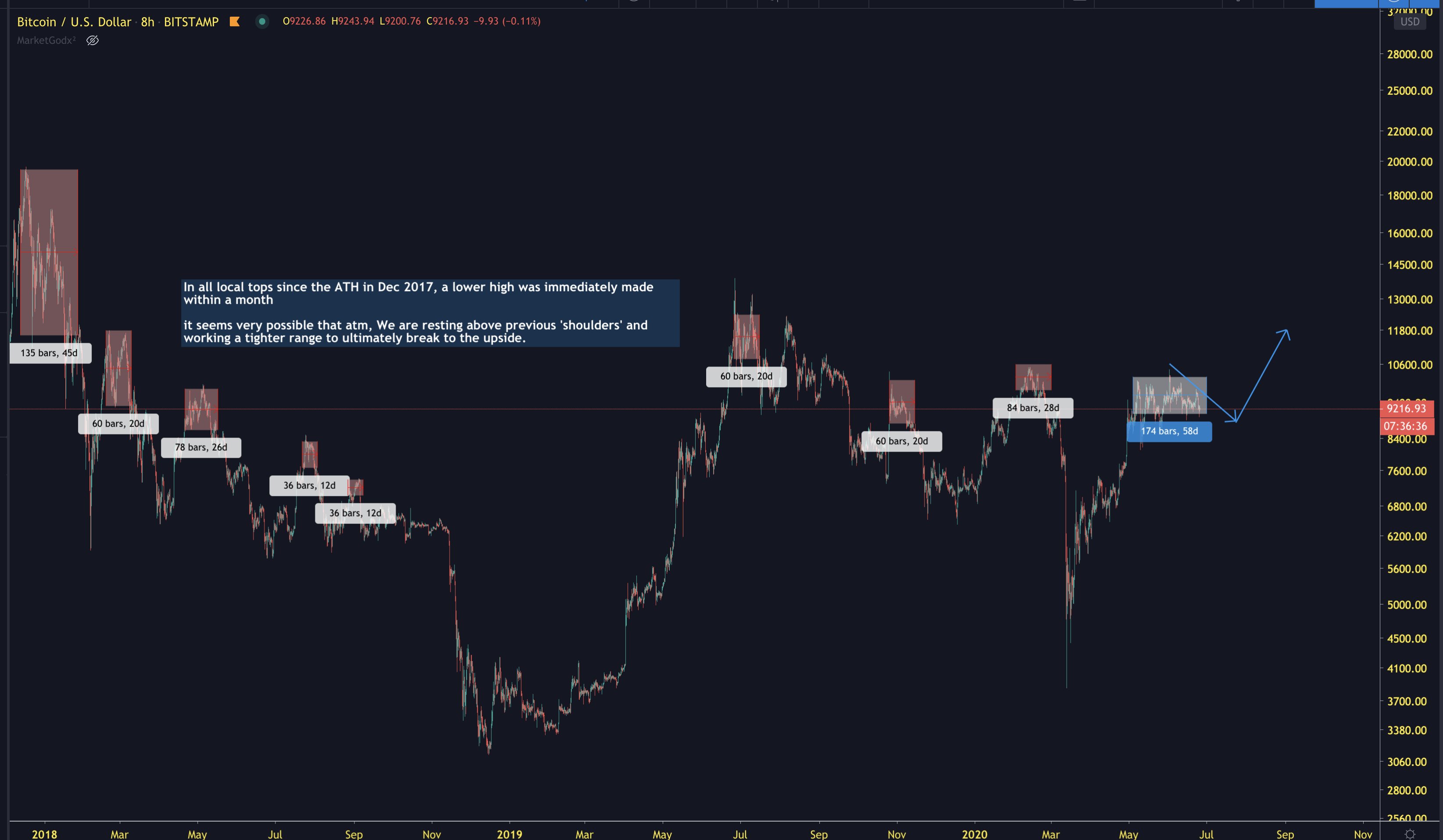 Bitcoin "top" analysis by Eric Thies (@KingThies on Twitter). Chart from TradingView.com
The Fundamentals Beg To Differ
The fundamentals, unfortunately, beg to differ.
PlusToken was reported by DTC Capital's Spencer Noon that $450 million in crypto from the PlusToken scam is moving. Blockchain analysis firms have reported that a large portion of the funds are being "mixed," then sent to exchanges.
As it has been reported that sales by the PlusToken scammers are what caused 2019's bear market, Bitcoin may drop in the weeks ahead.
Adding to this threat, on-chain analyst Cole Garner identified four fundamental threats harming the BTC bull case.
Featured Image from Shutterstock
Price tags: xbtusd, btcusd, btcusdt
Chart from TradingView.com
The Signal That Marked Bitcoin's 2019 and 2020 Highs Has Yet to Flash