It's been a tough past few weeks for the Bitcoin market. Some are skeptical that the cryptocurrency is in a bull trend after BTC has sustained multiple rejections at $10,000.
Yet a trader that nailed a bold prediction remains optimistic, sharing a number of signals indicating imminent upside.
Bitcoin Could Soon See a Bounce, Says Crypto Trader
In March, Bitcoin plunged from the $9,000s to $3,700 in the matter of a week. Considering the severity of the drop, coupled with a collapse in the traditional economy, few expected a rebound.
One analyst, however, was optimistic. Literally hours after BTC tapped $3,700, a trader shared the image below. It shows that the trader believed the bottom was in. He later shared another chart depicting his expectations that there will be a "V-shaped reversal" taking Bitcoin back to $10,000 by May.
Chart by @BTC_JackSparrow (Twitter handle), from TradingView.com
This came true almost to a T, with BTC flirting with $10,000 in May and June.
Despite the recent stagnation, the same analyst remains bullish.
On June 22nd, the analyst speculated that Bitcoin is actually in a textbook Wyckoff Re-Accumulation rather than a Wyckoff Distribution. Re-accumulation patterns are seen in the middle of an uptrend while distribution patterns are formed at the top of bull trends.
Bitcoin will trade above $11,000 within the next two weeks, according to the analyst's interpretation of the chart.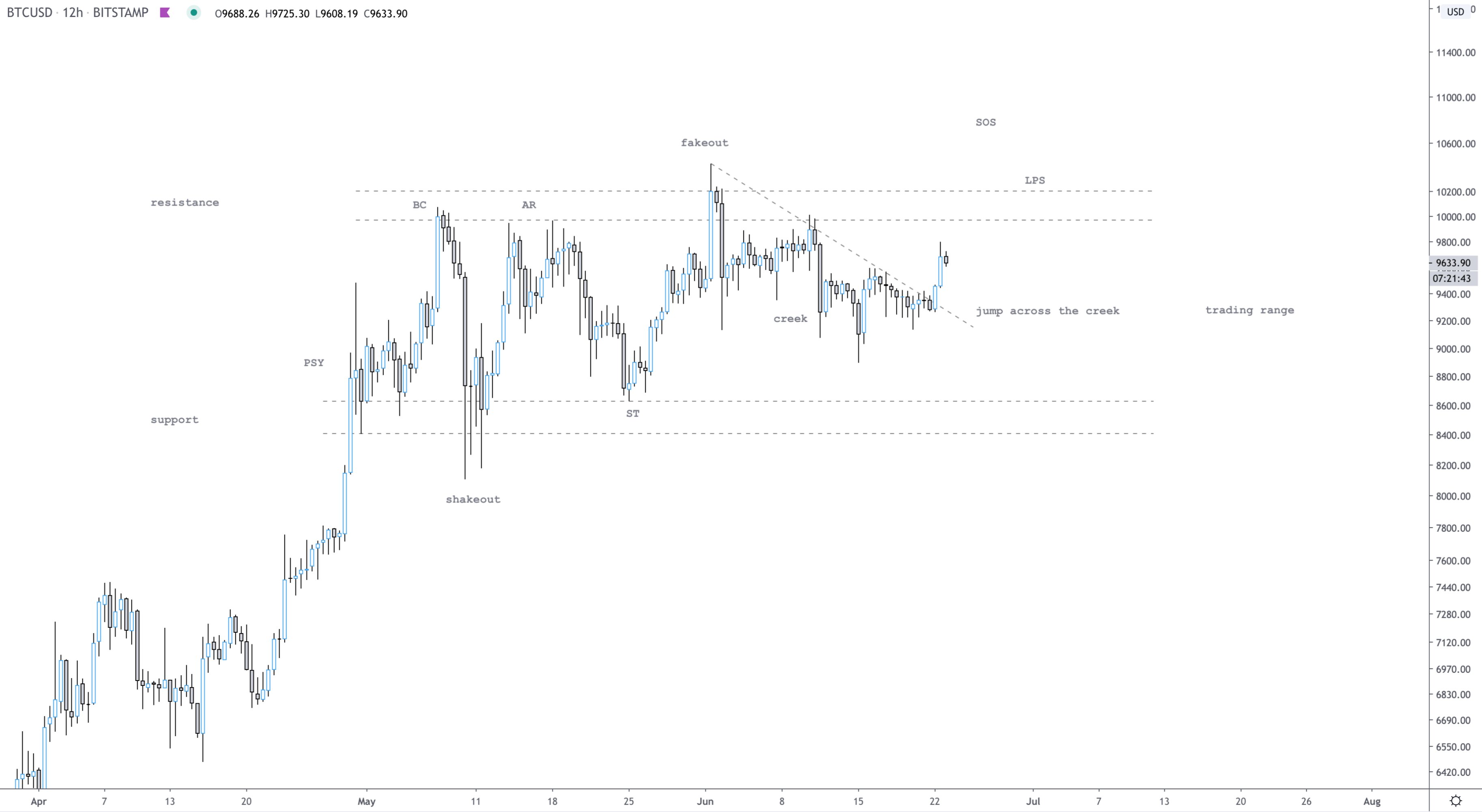 Chart by @BTC_JackSparrow (Twitter handle), from TradingView.com
More recently, he asserted that there's a good likelihood Bitcoin will undergo an "inverse $6,000 capitulation" if BTC holds $10,000. Such a move could take the cryptocurrency to the $14,000-16,000 range, his charts suggest.
The "$6,000 capitulation" mentioned by the analyst was in late 2018, when BTC plunged from $6,000 to $3,000 after ranging for months.
Bloomberg's Mike McGlone Agrees
Bloomberg Intelligence's senior commodity strategist Mike McGlone agrees with the assessment put forth above.
The analyst wrote in Bloomberg's July Crypto Outlook that the increase in the usage of Bitcoin implies a move to higher prices:
"The number of active Bitcoin addresses used, a key signal of the 2018 price decline and 2019 recovery, suggests a value closer to $12,000, based on historical patterns. Reflecting greater adoption, the 30-day average of unique addresses from Coinmetrics has breached last year's peak."
McGlone specifically identified $12,734, which is the highest end-of-day high of 2019.
This comes after he said in June that "something needs to go really wrong for BTC not to appreciate."
Core to this assertion is a number of trends, which include Bitcoin's block reward halving, decreasing market volatility suggestive of institutional adoption, and a correlation with gold.
Featured Image from Shutterstock
Price tags: xbtusd, btcusd, btcusdt
Charts from TradingView.com
Analyst Who Predicted Bitcoin's V-Shaped Reversal at $3,700 Is Bullish