Bitcoin has performed extremely well since March's lows, rallying over 150% from the $3,700 capitulation bottom. Even after a strong $1,200 retracement from the $10,500 highs, BTC is still one of the best-performing assets of 2020.
Yet a crucial indicator suggests that Bitcoin is still intrinsically undervalued, boding well for the bull case.
A Crucial Bitcoin Indicator Suggests Bitcoin Is Seriously Undervalued
Many analysts, especially those on Wall Street, find it hard to value Bitcoin. The cryptocurrency's value seems nebulous to most, largely because it doesn't produce cash flow, offer dividends, and doesn't have a physical form.
In December 2019, though, digital asset manager and investor Charles Edwards attempted to solve this issue.
He released a Medium article entitled "Bitcoin Energy-Value Equivalence" that tried to create an intrinsic value price model for Bitcoin.
Edwards basically suggested that the energy used by the Bitcoin network can be used to estimate what BTC should cost per unit. The premise is that Bitcoin can be valued like how traditional investors value commodities, though determining their cost of production.
Bitcoin vs. Energy Value model created by digital asset manager Charles Edwards(@caprioleio on Tiwtter).
To display the efficacy of the so-called energy value model, Edwards shared the chart above. The chart shows that Bitcoin's price has always been somewhat correlated with its energy value, trading both above and below the model.
According to Edwards' latest look at the data, Bitcoin is now trading around 27% under its energy value.
The investor shared the image below on July 6th, showing that the energy value of Bitcoin is at $12,815 — a new all-time high.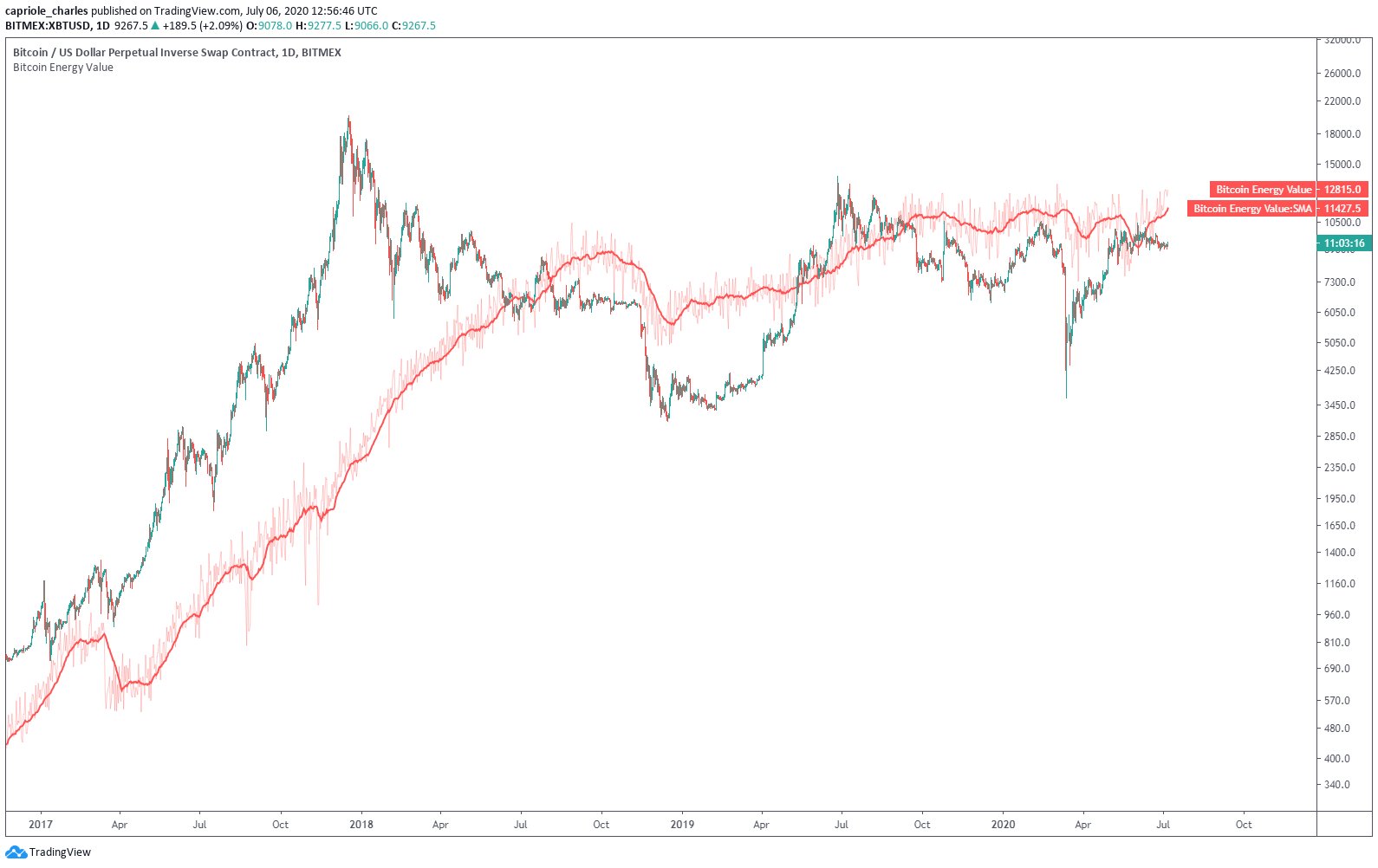 Bitcoin Energy Value analysis by Charles Edwards (@caprioleio on Tiwtter), a digital asset analyst. Chart from TradingView.com
This comes as the seven-day moving average of BItcoin's hash rate has begun to approach all-time highs.
Should the energy value continue to push higher, BTC is likely to trend towards it considering its historical precedent.
Not the Only Fundamental Trend Supporting the Bull Case
The Bitcoin network's increase in power consumption isn't the only fundamental trend supporting bulls.
Bloomberg Intelligence's Mike McGlone wrote the following in July's edition of the Bloomberg Crypto Outlook:
"The number of active Bitcoin addresses used, a key signal of the 2018 price decline and 2019 recovery, suggests a value closer to $12,000, based on historical patterns. Reflecting greater adoption, the 30-day average of unique addresses from Coinmetrics has breached last year's peak."
The analyst also said that with increasing adoption of Bitcoin via the CME, central bank money printing, and Grayscale's purchasing of BTC, the cryptocurrency market looks primed to appreciate.
Featured Image from Shutterstock
Price tags: xbtusd, btcusd, btcusdt
Charts from TradingView.com
Bitcoin's Intrinsic Value Hits $13,000 — Here's Why That's Big for Bulls